Review Meeting of experts at the APOD 2022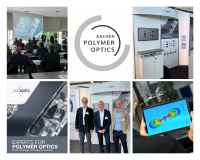 First-class technical presentations, exciting exchanges on current technology topics and, finally, face-to-face discussions again - the Polymer Optics Days 2022 in Aachen were all that. From June 1-2, international experts from industry and research met to discuss relevant issues in polymer optics …
Review Meeting of experts at the APOD 2022
First-class technical presentations, exciting exchanges on current technology topics and, finally, face-to-face discussions again - the Polymer Optics Days 2022 in Aachen were all that. From June 1-2, international experts from industry and research met to discuss relevant issues in polymer optics production.
VIAOPTIC also contributed to the top-class program with the presentation "Agile method-based process development for precise plastic optics" by Managing Director Bernhard Willnauer and an appearance at the industrial exhibition.
"The event with its interesting topics has impressively shown that nothing can replace personal contact. From many discussions and the contributions of the speakers, we will take exciting impulses back to Wetzlar," concluded the VIAOPTIC team.
A participation in the next Aachen Polymer Optics Days is already planned.